Many parties from the society have joined their effort to battle against the Storm Desmond as North West England has been severely affected by the unprecedented downfall .
(Video provided by euronews)
A body was found during a search of the River Kent in Kendal as Cumbria prepares for more rain after a weekend of record rainfall.
North West Ambulance Service ambulance crew told Westminster News that they continue to face challenges in reaching devastating floods.
More than 40 Schools  and several hospital were closed according to local news outlet News & Star.
(Photos provided by David Sim)
Fundraising by charity
A fundraising campaign set up on Sunday for people affected by the floods had raised more than a quarter of a million pounds by Monday morning.
The Cumbria Flood Recovery Fund is providing living necessities, emergency repairs and child care equipment for those who are in urgent need or have lost work because of the storm.
Spokesman said money will be given out in a week after donation, people can follow their website for the transparency of the scheme.
Free Rooms opened for people
A restaurant in Cumbria are opening places for those who have been left without a roof over their head. The notice was retweeted for hundred times by those who appreciate the action as a "lovely gesture".
The restaurant said they will put the people seeking for help up for free as long as they can.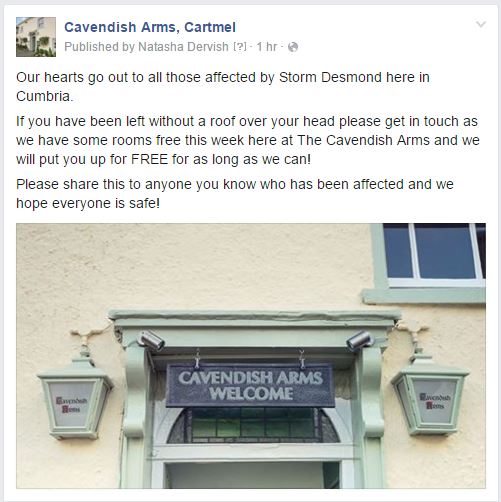 Utility restored to most homes
Electricity North West said that power had been restored to all this morning but 300 homes in Lancaster and surrounding area that had lost supply late on Saturday after a substation was flooded during the storm.
However the company told Westminster News that they are still facing challenges since more persistent downfalls have been forecast later in the week.
(Photos provided by Electricity North West)
"Devastating" situation before Christmas
Juliana Sensier, resident in Cumbria who spent her last night in a local cafe because of the power cut, described the flood as "devastating, especially considering that Christmas is coming but we are left in this situation". Many gathering in the cafe were talking about what happened to themselves, as a comfort for each other.
She showed her disappointment on twitter toward government by asking for more care in a more practical way, despite the Prime Minister announced his plan of visiting the most damaged area this morning.
(7th Dec. 2015. Cece Cai)